Like many AVM and aneurysm survivors,  I'm sure my story is pretty similar. Life, in my case, was pretty successful, but not without its challenges. One of the worst nights of my life started out as one of my best. It was one of my last nights at St Luke's hospital where I had my brain surgery due to a burst AVM and aneurysm. I had been there for two weeks and would soon be transferring to TIIR Memorial Herman Hospital in the famed Houston, TX Medical Center to treat something I had absolutely no idea I had, swelling in my musically inclined, always thinking of funny ways to watch paint dry brain. But I digress. Why was I laying there with a naked Build-A-Bear? And what would send me on a 2000 mile train trip to repay the gift of that bear?
I had a successful career at ExxonMobil Chemical Company in Baytown Texas just outside Houston. I loved my career. I also loved my life in general. I was married with two kids, my son Corey, and my daughter Rachel, two years apart. They both excelled in school and both took after their dad and were in band. Many folks play an instrument into high school and stop. But I kept at it.  I studied trumpet as a performance major for several years in college. In addition, I have played keyboards, and sing. I have led music and worship in churches through the years. I had even recorded a sampler CD in a studio.
Enter August 2004. On July 28th, while sitting at church after having led a short worship set on a Wednesday night, I noticed my left arm going limp. I interrupted the pastor. They immediately prayed for me and he got me in his car and drove me to the closest hospital, where I had been 4 times in the preceding months, once with a confirmed stroke. Every possible test was run. Cat scans, MRIs, angiograms, every test you hear they run for discovering AVMs, but they could not find anything. I had just been released from the hospital the prior week, and my work doctor gave me the ok to start work the next morning. But there I sat in the ER again.
My left leg started going limp. Then they got me into a room. I was really scared at this point. They needed me to remove my shirt. It was brand new. I got so frustrated, I told them to cut the f—ing thing off. I never cuss, that tells you how bad it was. That is the last thing I remember. I woke up a week later in St Luke's hospital after having had brain surgery to fix a bleeding AVM and aneurysm that had burst and I'd had a major stroke.
The next two weeks were somewhat foggy. I will not try to tell you everything I remember from it. But, some moments were horrible, some I cried, some I rebelled, some I had miracles, and others I was just plain mean. It took my dad giving me a 'come to Jesus meeting' to get me to settle down.
One of my colleagues was a man named Ralph Kowalik. Ralph and Donna's Kowalik's daughter, Catherine, is disabled. She had a brain injury at birth, causing mobility problems, cognitive issues, hearing and sight challenges, as well as seizures.  I had given Catherine my sampler CD and although she liked my song, a song about someone who was disabled really touched her. When Catherine Kowalik's parents told her that I was in the hospital and very sick, they invited her to go with them to see me.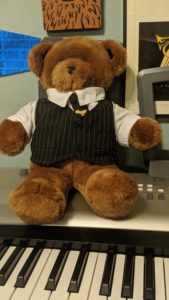 When they entered the hospital room, Catherine was holding a Build-A-Bear box. In that box was what she called 'James Bear'. He was dressed in a vest with a tie and shorts. Kind of a suit looking thing . Catherine thought it looked like me. I believe she met me at a wedding we went to for a colleague in our work group once. Little did she know how important that bear would be for me.
They were weaning me off both morphine, and anti brain swelling medicine in preparation for my transfer to TIIR Memorial. Coming off those meds was brutal. That night was what to this day I call the worst night of my life. Like an addict coming off heroin, plus full of back pain, and don't forget, I had a traumatic brain injury. I was still adjusting to the fact I could not move half my body. Let me tell you how I got through that night. It was that darn Build-A-Bear. I threw him. I hit him. In the end, when I woke up the next morning, I'm not kidding, that bear was stark naked. His clothes were thrown all over the room. I feel bad for the bear, it wasn't his fault, but you know what? The act of kindness from that special young lady, helped me get through the worst night of my life.
I still have James Bear. I count it as one of my most special possessions. It is a sign of someone giving up something for someone else in need. I don't know, did Catherine somehow see, supernaturally, what was going to happen? Or did she just simply hear the voice of God in her precious heart that day, and obeyed? She gave up something that seems so meaningless, a stuffed animal. What a selfless example for all of us to follow. I get updates from the Kowaliks every year. She and her family had no idea until recently how much that bear meant to me.
For several years I have gotten to know several AVM and aneurysm survivors in the Houston area through a website called AVMSurvivors.org. We had been getting together at one person's house for several years, but because of some of our hurricanes and tropical storms, the main person who had hosted our get togethers, Daniel Sadler, an AVM survivor, lost his home. So I and another survivor, Caryn Rawls began to more actively organize our get togethers. We also became aware of TAAF for the first time. So we organized our first 'Walk At Home' event. A combination picnic, awareness walk, and visit to a minor league baseball game, where I organized a first pitch for one of our survivors. We had a wonderful day! One of the ideas that came out of that day was to 'pay back' the good deed that Catherine Kowalik had done for me that day in 2004.
The next year, because of the success of the Houston area TAAF 'Walk on your own' awareness walk, we had one in Chicago in Lincoln Square. It was such a joy, and we raised about $1500 for TAAF at that event. The next day I took a local train to spend a night with one of my best friends, Mariane Elizondo, where we would have dinner together. Marianne and I had very similar AVM stories. We spent 4 hours at a restaurant, they basically had to kick us out. We were having so much fun sharing AVM 'war stories'. One of  the things she did was encourage me to go to the national walk in San Francisco. She had attended it several times, and had enjoyed it. We lost our dear friend Marianne to cancer this past March. She was truly one of my best friends, and the reason the rest of this story happened.
In 2018, things worked out for me to finally attend the annual TAAF walk in San Francisco. With some trepidation from my family, I had booked a train trip from Houston to LA, and LA to Oakland. My son would fly to Oakland, making my family feel a little better, and the day of the walk, my business partner Jennifer and her family would join us for the walk. After my AVM, I got into radio, thanks to Jennifer. Her husband is a pediatric physician, and has actually worked with young AVM patients. So she has always loved getting involved with my AVM awareness and fundraising efforts.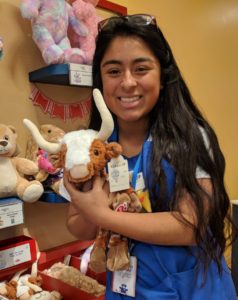 TAAF had sent out an announcement that they were looking for raffle items to give away at the walk. And it hit me, James bear! Why not return that favor and create an animal to take on my train trip and why not take pics with it along the way? It could be a gift from our local AVM survivors that have gotten together for about 10 years. Do it in honor of them, and Catherine.
There is nothing like a 50+ year old man going to a Build-A-Bear store. I never knew there were so many choices. What animal? What clothes? What kind of steer mascot of course is known as "Bevo" the Longhorn. But what should we call this critter? After talking to my good friend and fellow AVM'r Caryn Rawls we decided to call it Sadler Cowalik. It honors two people. Sadler, for Daniel Sadler, who helped organize our first Houston area AVM get-togethers. And Cowalik, in honor of Catherine Kowalik, who brought me James bear, that dear sweet bear that still sits in my music room some 16 years later.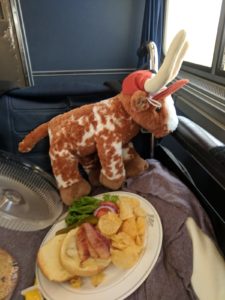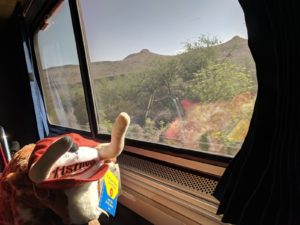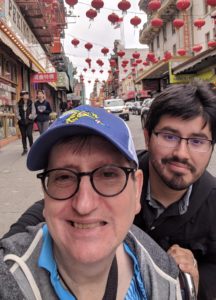 I had an absolutely epic train trip to Oakland. I left on a Wednesday at 6pm and got to Oakland at 8pm on Friday night. There were a few hiccups on the way. The bathroom did not work part of the trip. But fortunately they transferred me to another car. Along the way I met 2 cancer survivors, several engineers on the train that took pics with Sadler Cowalik, one man that had actually survived a small aneurysm burst, and others that time has lost. But so many asked me about Sadler on the trip because I had him in plain view. I could have chosen to have gotten a private sleeping car that trip. But I chose not to for that reason. And I was able to share my  story and how I was one of the fortunate ones. Many don't survive. Many like the son of the woman I would meet in San Francisco.
I had contacted Dina Chon about the gift for the raffle, told her the story of 'Sadler Cowalik', and she told me that she thought the best thing was for her to introduce me to a woman that would be at the walk named Nancy. Nancy had a child named William, who had an AVM at birth. Beyond that, I did not know much about his story. So that Sunday morning we got up, and our group of 6 set out for Chrissy Field. It was a very Chilly day. When we arrived, we all visited the booths, made the full walk, met a number of people, all while I was holding Sadler. Several folks even asked for pics with him! Then as we all settled towards the stage, I finally was able to meet Dina. She introduced me to Nancy. Nancy had a good sized group there representing 'William The Brave'. At first I was looking for William. I misunderstood something. See, I said I was one of the fortunate ones. The doctors had told my family that had the pastor of the church not immediately taken me to the hospital, I would not have made it. They think my time of survival was between 30 minutes to an hour. But just think, if in my previous hospital visits they could have seen my AVM, I could have had surgery to correct it, and not had a stroke. I choose to raise awareness and do fundraising for TAAF so that someday better radiology techniques will find AVMs and aneurysms like mine before they bleed and burst.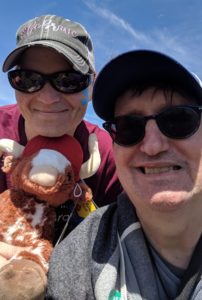 William, I would find out, was a young infant, who fought valiantly his young life. Remember the bear that Catherine brought me? The one that got me through my hardest night? Nancy was given a bear during William's young life. And just like me, it helped her through the toughest days. And through the toughest of all, when he left this earth due to his AVM. I gave Sadler Cowalik to Nancy, shared the story and pictures of our journey, how and why he got there. Isn't it amazing that two people in separate locations were inspired to encourage both Nancy and I while going through our AVM experience. Me, as a patient, and hers as a mother. Nancy and I have become friends, and she has taken Sadler along with her bear representative of William the Brave to many events, from awareness walks, to baseball games, she knows how much I love baseball! The month of October is pediatric AVM awareness month. If you can, I can think of no better way to honor this month than to find an item to give to a mother, a father, a baby, a family member, to help to encourage them during their brave fight against and with AVMs and aneurysms. And just like my dear friend Catherine Kowalik, many AVM-STROKE-ANEURYSM folks deal with seizure disorders as she does. And you can honor her legacy by carrying on this fine tradition. Make a journey, just like our friend the cow and the bear did, and help raise awareness, help fund new AVM & aneurysm research grants, and encourage kindness.
Click the photo to learn more about James Larken Smith.