TAAF Youth Ambassadors empower other survivors and community members through their social activism, leadership and storytelling/sharing. Here is a message from our 2020 Ambassadors.
TEAM 2020
We're proud of the work of our ambassadors and want to shine a light on their amazing work. The TAAF Youth Ambassadors for 2020 are Arturo Valdez, Davidson, Jump, Rachel Burdick, Erica Carnegie, Mariah Fisher, Sasha Gadea, Emalina Sanguinetti, Laila Smith, and Kimmie Boyd. Each Ambassador is part of the team through the 2020/2021 school year.
Making an Impact
These amazing youth have already done so much to bring awareness and are making an impact on their communities in many different ways.
Arturo Valdez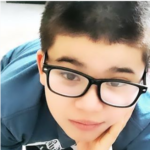 Within six months of my rupture I was able to recover enough to lose my wheelchair, cane and AFO. That was just the start of my achievements. I was also able to learn how to play xbox one handed and even won a battle royale on Fortnite. I was able to keep up with everyone. My friends always want to see how I play because they can't believe how well I play. I was also able to run a marathon for my school's fundraiser. I completed 35 laps that day with my parents screaming and cheering from the sidelines. All my classmates were so proud of me. My biggest accomplishment at school was by far my grades. I worked very hard, sometimes wanting to give up.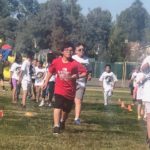 I was tired and sometimes overwhelmed but I fought through it. School was at home due to Covid, I was able to feel more comfortable sharing my writing with my teachers. I am usually shy, so opening up was hard for me. In the end it paid off because I received Student of the Month, and ended the year on the Honor Roll with a perfect GPA of A+. Being able to spread awareness to people I know has also been an achievement. Most people I know had never heard of an AVM, so it makes me proud that now people can put a face to AVM awareness
Davidson Jump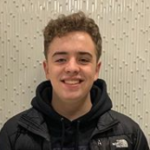 After having my AVM removed in the summer, I was looking forward to watching football as are most kids growing up in the Midwest. My friends were running routes and drills yet I was at home recovering from my surgery. When the first game of the season came around I was ready to watch my buddies succeed. I watched them run onto the field as the band played our school's fight song and I was taken back. I wanted that to be me out there making tackles and scoring touchdowns, but I knew it wasn't an option. My high school had a phenomenal kicker who broke dozens of records not only at our school but in the country and everyone looked up to him. I knew it was a stretch, since I had never kicked before, but I was determined to learn how to kick.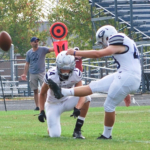 Within just a couple of months I had learned the basics and I was picking up some of the skills. I had come a long way but I still had to work at it. I competed and took mini camps with local kids and I was nowhere near where they were. I would spend hours doing the same things over and over again until I was happy. After just a year I have become a completely different athlete. As of just a few weeks ago, I finally made my first 50 yard field goal which was double my previous record. My life was completely turned upside down a few years ago, but I never let that get to me. I just continue to put work and effort into kicking and everything else I do.
Rachel Burdick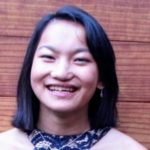 I'm proud of the work ethic I've developed towards pushing my athletic and scholastic abilities since my surgery, which led me to train as a Junior Olympic Optional gymnast until the summer of 2019. I also received the Jefferson Award in community service and pushed myself into taking advanced classes at in school. I am also proud of my ability to be flexible with situations, and have started to develop my core values and personal character. Most importantly I am lucky to have built a community of friends and family that are always there to support me. In addition, I am proud to have had the opportunity to participate and walk alongside my friends the last 4 years in the annual TAAF Walk in San Francisco to raise funds for TAAF.
Erica Carnegie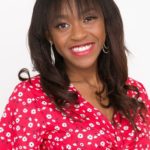 After becoming the Youth Ambassador for The Aneurysm and AVM Foundation, I have had many achievements. Since January 2018, I've received the Young Woman of Distinction Award; Jacksonville Influential Teen Award; and 2020 Teen Change Maker Award from the City of Jacksonville's Police Athletic League. I have also been featured in Pageant Royalty Magazine multiple times, Inspiring Teen Magazine, local newspapers, Pageant TV World, and more. In October 2019, I received a Proclamation from the Mayor of Jacksonville which declared October as AVM Awareness Month.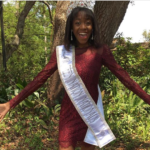 In February 2020, I received another Proclamation from the Mayor of Orange Park to bring awareness to Rare Disease Day which was being acknowledged worldwide on February 29, 2020. I was also declared a change maker by TAAF.
Mariah Fisher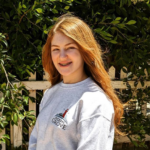 I am proud of multiple awards I have received since my AVM including winning the Rise Up Against Unbeatable Odds Award, the Peer to Peer Award, and the Rare Artist Award which allowed me to go to Washington DC and feature my art with other rare artists. My community at home also featured me in our local newspaper, The Morgan Hill Times, for receiving this award.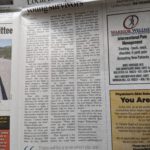 I have also worked very hard to maintain a high level of academic achievement which has allowed me to graduate 8th grade with the President's Award of Educational Achievement and the acceptance into Ocean Grove High School. I have also been accepted to participate in Do It for the Love wish program and the Make a wish foundation.
Sasha Gadea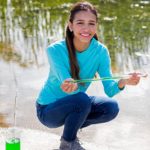 Since my surgery, I am really proud that I can still do the things I used to. So with my 2nd chance, I'm trying to experience more of what I like and focus on how those things will determine my future. So far I have tried baking, painting, exercise (Didn't last long), sketching and clay sculpting. I also became a TAAF Youth Ambassador which is awesome!
Emalina Sanguinetti
Throughout my AVM journey, I have had achievements along the way. My AVM ruptured last year and ever since it has been a continuous fight. My AVM happened to come along with loss of my motor skills. Eventually, I got them back with a lot of time and work. My experience helps me to understand others and be able to help them.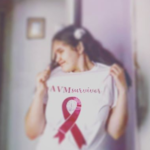 I have had the privilege of talking to a few people who have had brain injuries as well as their family members. Becoming a TAAF Youth Ambassador has helped with that. Everyday I am proud of those achievements.
Kimmie Boyd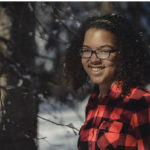 I have had some big achievements since my AVM. I have participated in the TAAF Walks for multiple years and was asked to be a speaker at one of them. I was also part of the Meet TAAF Video and advocated for TAAF in Washington DC for Rare Disease awareness.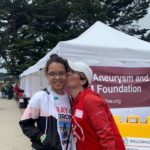 Laila Smith
I would say I am proud of learning more about what my sister, Maura's, diagnosis is and getting more involved in it. I'm proud of her for handling it so well and how she's gotten better with her memory and speech. I'm proud of myself for how I protect her and help her learn ways to make her memory better. And I'm proud that I get to be a youth ambassador!