You never know how strong you can be until strength is your only choice. This is a truth I discovered in September 2015, faced not with my own mortality, but rather that of my dear mother Hattie. She'd suffered a ruptured brain aneurysm and her primary care doctor told us she had two months to live. Although I had no idea what a brain aneurysm even was, I did know that I wasn't ready to give up on my mom. If that was all the time she had, then she was going to spend it at home with me. At that moment I decided to become my mother's sole caregiver.
My mom came home with a feeding tube and a trache, and she couldn't talk or walk.
I took it upon myself to be her caregiver because I was determined for her life to go on as normally as possible without people treating her differently. I put my life on hold; I wanted to do it, but I didn't want her to feel as if she was a burden because she was not. My only concern was for her recovery. I wanted her to have her life back. Of course, caring for her and seeing all the ups and downs was difficult. She had her good days and bad. So did I. Recovery is what we aimed for, and we did it together. I worked with her day in and day out. Her struggles were my struggles, but we still had each other, which was the most important thing in our lives.
The first time I saw my mom shake her head yes, I thought my eyes were playing tricks on me. I kept telling myself that I was just tired because I only slept when she slept… which was sporadic. Her feeding and medication schedule was every four hours and it had to be administered through her feeding tube. Consequently, we slept in the same room. I preferred it and wanted to stay as close as possible to make sure she was still breathing. My mom was never a morning person and most of the nurses wanted to come bright and early, so she didn't pay much attention to them. Even though she couldn't talk she knew what was going on around her. But once she began moving her head, boy did we manage to communicate with each other. She would shake her head yes or no. She could smile, laugh and cry. My mom's home health nurse could even get her to do many of these things on command. As her caregiver, I tried my best to keep the negativity around her at a minimum. And although we had setbacks, love and laughter always won with us. We didn't let the setbacks stop us from loving and laughing together.
Not knowing anything about aneurysms, I began doing my research online. Among an overwhelming amount of information, I found The Aneurysm and AVM Foundation (TAAF). Their knowledge and expertise has helped me a lot, and I wanted to show my gratitude to them, by doing my part to help the TAAF community. Every year I register for the TAAF Walk in my hometown to raise funds and raise awareness. In doing this, I not only honor my mom, but I enable this organization to do for others what they did for me, and they helped me through my worst. Through their mission of raising funds for research and spreading awareness and support, The Aneurysm and AVM Foundation helps people all over the world through one-on-one assistance, people like me, who needed support when I couldn't find it from others. I leaned on strangers for help so I could help mom. We didn't have much support from my biological family, and we sadly lost a lot of family and friends along the way. Luckily, we always had TAAF as part of our community.
Mind you, I wasn't completely alone; I was incredibly fortunate to have had my husband, my daughters, my son and especially my granddaughter Emma by my side. Emma would sit on the foot of my mom's hospital bed rubbing my mom's leg or holding her hand. Mom watched her and would always smile. She loved little Emma, and you could see that love between them. If my mom had her eyes closed, all Emma would have to do is say "granny" and those eyes would fly open. My husband Tim initially surprised me when he was in full support of bringing mom home. He joked with her that I sometimes talk too much. I joked with her too, saying that she needed to be on my side and not his. She would smile at us both.
Tim would also run errands for us or stay with mom when I tried to nap, but admittedly I soaked up all the time with her that I could. Mom and I would watch TV together, and sometimes there would be enough room for me to lie next to her in bed. Sorry (not sorry) folks, but you're never too old to need your mom. We made the best of life and made even more memories. We had an amazing bond, but caregiving was rough and the hardest part was seeing her cry on "bad" days. I could barely hold back my own tears. When the weather started to get cold, I had to keep visitors away because mom couldn't fight off germs. This made a lot of people mad and it was certainly harder on mom and I, but I had to keep her from getting sick. Other times people would come around for visits, but never come back. What they didn't realize was that it was very hard for mom to see people coming in and out of her life, not standing by her when she needed them the most. I always did my best to cheer her up, to reassure her that I wasn't going anywhere.
Sometimes caregivers get blamed for things out of their control, or at least I did. I was used as the reason visitors wouldn't come around. It was always, "Laura won't let me," but that simply wasn't true. Folks didn't come around because there were other things more important to them. Winter really was the only time I kept people away, and there was good reason. The hospital is no place for someone in recovery. That may sound funny, but it's true. When mom was sick and needed to be hospitalized things were even worse. Of course I stayed by her side. Though the hospital staff said she would be fine and that I could go home or rest, I stayed right there with mom. She needed me and I needed her to know I wouldn't leave her. But seeing her become weaker and needing to rest was so hard for me. I wasn't ready to let her go; I needed her too.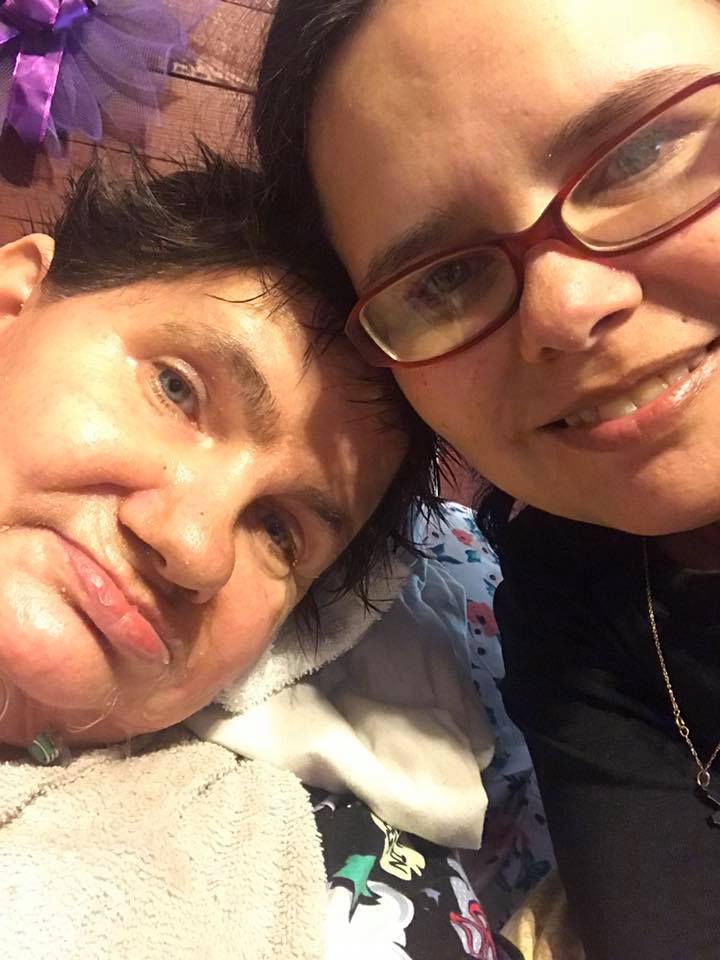 I still need my mom, and I know she is always with me watching me from heaven. Being a caregiver was hard, but it was rewarding. We learned from each other, got to take the good with the bad. Listen to me: make all the memories that you can with the people you love. Memories are all I have now. If you can take care of a loved one, do it. Never ever take family for granted. Make each day count and make as many memories as possible because once your loved ones are gone, you will always have those memories you shared to sustain you. You will be rewarded in the end.
But I'm not sad. I don't regret my decision. I was my mom's caregiver for a little over four years; and if I had it to do over again, I would do it in a heartbeat. I learned so much from her and about aneurysms. My mom and I faced life and struggles together, head on. She was my happy place; and though I based my life around hers, I would have gladly taken her place any day. I always was and forever will be proud to be her daughter and her caregiver. She taught me to be a better person, and because of that I am forever grateful. She taught me not to take life for granted at a time when I often did. I was told that I'm a strong woman because a strong woman raised me. I believe that. My mom was very strong; she fought hard for four years to recover and she changed my life forever. Since her passing, I find myself going into her room to tell her things. She isn't there, but I tell her anyway. One of the hardest things I faced when taking care of mom, and I mean heart wrenchingly hard, was not being able to hear her speak to me. I missed it, needed it even. I prayed to God daily to heal my mom, to make her better so that she could talk to me. I know my mom is in a better place now, walking, talking and working in her flowerbeds and she is aneurysm free.
I'm proud that I chose to be strong, that I stepped up to be a caregiver. It was a very rewarding learning experience for me that I will never forget. I made caregiving my life, and I now have wonderful memories that I will cherish forever. My mom always said I could do anything I wanted to, but I always told her I was too old. She believed in me even when I didn't believe in myself; I would like to go back to school for nursing and prove her right. I am forever grateful to her, for TAAF, and for the family that stuck with me. I will continue to support The Aneurysm and AVM Foundation in my mom's memory. Thank you TAAF, thank you so much for all that you do.
Click the photo to learn more about Laura Sprouse Winans