When Chris Guerrero arrived at the DMV to renew his ID recently, he primarily communicated with the clerk by showing her a text he had previously prepared on his phone. He also presented her with a separate laminated card with a yellow border that read: "Hello! My name is Chris, and I have aphasia. It is a communication disorder. While speaking and understanding may be difficult, my intellect is fine. Have patience, and give me time to respond. Speak clearly and slowly. Don't shout – I can hear you. Ask 'yes' or 'no' questions. Use visuals (written words, pictures, gestures)."
Unfortunately, the clerk brushed off Chris' card, did not read it, and the renewal process for Chris' ID was stressful and frustrating.
Chris developed aphasia, which affects his ability to process, use, and understand language in all forms (speaking, listening, reading, and writing) in June 2016 after he suffered a hemorrhagic stroke on the left side of his brain. He was 36 at the time with three young kids. It was his three-year-old daughter who witnessed him fall on that fateful morning. She alerted her older brother when she noticed her daddy would not wake up. He was only ten.
After two surgeries (one to release the pressure and one to remove a golf-ball-size piece of the brain), Chris spent one month in a hospital, then several weeks in a nursing home, followed by more time in a rehabilitation hospital (for a total 3 ½ month stay in the various locations).
Chris has worked remarkably hard to recover from his stroke because of his love for his three kids: his son, now 17, and his daughters, now 14 and 10.
He used a wheelchair for five months post-stroke but learned to walk again, finishing physical therapy this past January. His right side continues to be weak and numb, and he has little use of his right hand and arm. He went through speech therapy for four years and continues to work on various reading, writing, and speech exercises for his aphasia at home.
The hurdles Chris faced at the DMV are even more profound on a personal level, as aphasia interferes with his life as a parent. Chris is angry with himself that he can't wholly talk to his children. He knows they understand he had a stroke and has disabilities, but he wants to talk to them more deeply about his experience, and other things. Chris' inability to talk to his kids has caused him depression and anxiety.
But Chris does not let his aphasia get in the way of making memories with his kids. They love to play basketball HORSE, board games, and card games like Phase 10, Uno, or 5 Draw Poker for fun. They enjoy trips to the park, going to the movies and baseball games.
Chris also strives to live up to his name for his kids. He wants to be their role model. Guerrero, in Spanish, means warrior or great warrior. And at 43 years old, Chris Guerrero proves time and time again that he is, in fact, a warrior.
His Instagram feed shows videos and photos of him regularly walking 5, 10, and 15 miles a day, hitting a golf ball, shooting pool, or tying his shoe, all with one hand. These are impressive feats for non-stroke survivors, much less a stroke survivor who has had to re-learn to walk and has limited use of his right side. He also deals with short-term memory issues and seizures.
Even as a teenager, Chris lived up to his name. In 1995, just days after his 15th birthday, Chris fell into a coma due to a failing liver. In August of that year, Chris was the recipient of a liver transplant.
Despite these significant and life-altering events, Chris has vowed to #nevergiveup, a hashtag he consistently uses on his social media posts. His motivation is consistent - his three kids and being present in their lives. Recently, Chris proudly attended his son's high school graduation. After his stroke, Chris thought he might not be alive or capable of attending the milestone event. He's promised to be present for his daughters' graduations in the coming years.
Chris has learned a few things in his 43 years through his trauma: he's a spiritual guy who likes to reflect on the good and bad things and give gratitude, he's learned how to ask for help when he needs it, and he always takes life one day at a time.
Click the photo to learn more about Chris Guerrero.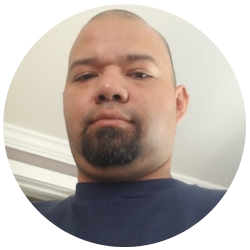 *Thumbnail Art credit to Dave Marks